Zakynthos Town or Chora as it is known by the locals is on the eastern side of the island and has the main shops, piazza and harbour from which the frequent ferries to the mainland port of Kyllini depart and arrive.
Zakynthos Town is the pulsing capital of the island and is located at the base of the hill of Bochali. Famous for its glorious ensemble of Italianate architecture until an earthquake struck in 1953, it was subsequently reconstructed in fine style, with arcaded streets and gracious neoclassical public buildings. It is the main port of the island. The long waterfront extending between the Solomos Square (on its right) and the Church of Agios Dionysios, saint patron of the island (on its left) is the most popular and crowded spot of Zakynthos, lined with many restaurants, tourist shops and ferry agencies. This is a lovely town for an evening stroll along the narrow paths and the waterfront.
The Venetian Castle, which overlooks the city, serves as a reminder of the island's history and is a must-see for history buffs, who would also do well to visit the Byzantine Museum and its collection of Greek art from the 15th, 16th and 17th centuries.
Zakynthos is not a big city, so it is easy to explore it on foot. However, there are public bushes to neighbouring villages. To get around the island from Zakynthos Town  you can rent a car / moped. Their rental fees are quite affordable. Alternatively you can hire one of the many taxis available.
There are some delightful villages to explore on the island. Below find our best choices.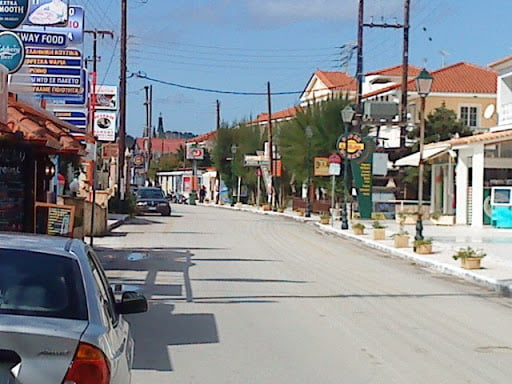 ARGASSI
Argassi is a resort town in Zakynthos located close to both the island's capital and the airport. Known for its relaxing days and active nightlife, Argassi boasts a beautiful sprawling beach and is home to a variety of water sports opportunities such as jet skis and paragliding.
For those who prefer to explore local culture, the Church of the Virgin Mary of Skopiotissa is a stunning 17th-century structure set amid ancient ruins above the town.
By night, Argassi comes alive as bars, nightclubs and restaurants fill up with tourists.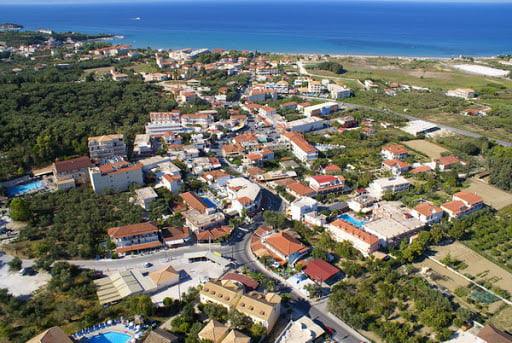 VASSILIKOS
Vassilikos is a relaxed resort in the south, famous for its variety of beaches and lush countryside. Ideal for those seeking a truly peaceful island retreat, Vassilikos boasts some of Zakynthos' finest hotels and resorts. Located on a peninsula of the same name, Vassilikos is perfectly situated as a base for excursions to several stunning beaches nearby.
Due to this entire area being a key breeding ground for the endangered loggerhead turtle, beaches tend to be pristine and untouched by development, making Vassilikos perfect for those in search of tranquillity.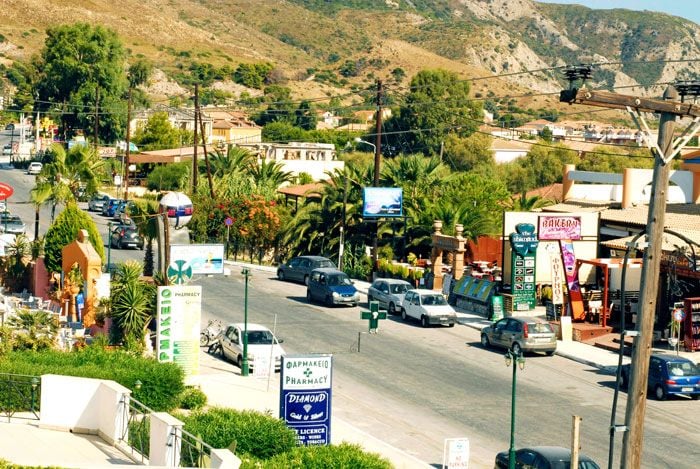 KALAMAKI
Kalamaki is a tranquil resort on the island's south coast that is known as a key breeding ground for the Caretta Caretta sea turtle. As such, Kalamaki has retained much of its pristine charm.
Kalamaki Beach itself is a sprawl of soft sand dotted with sunbeds and umbrellas for rent.
A large section of the beach is off-limits to protect the turtles, and water sports are banned here for the same reason.
Kalamaki offers a relaxing combination of traditional Greek restaurants and laidback bars and coffee shops.
LAGANAS
Laganas is Zakynthos' busiest and most popular resort town. A haven for young holidaymakers, days in Laganas are spent soaking up the sun while evenings revolve around the dozens of bars and nightclubs that hum with activity throughout summer.
Laganas Beach is a 9-km-long stretch of golden sand and clear, shallow waters that are perfect for swimming and is by far the island's busiest and most developed coastal area.
TSILIVI
Tsilivi is among the most family-friendly resorts in Zakynthos. By day, Tsilivi Beach offers water sports and relaxation along over 2 km of golden sands, while nearby Bouka and Gaidaros Beach provide a more tranquil place to swim amid shallow, calm waters sheltered from the crowds. Tsilivi caters to children making it very popular for families.
By night, Tsilivi comes alive with restaurants. While there are not many nightclubs in Tsilivi, beach parties are a nightly occurrence in summer and provide ample opportunity for revelling into the early hours.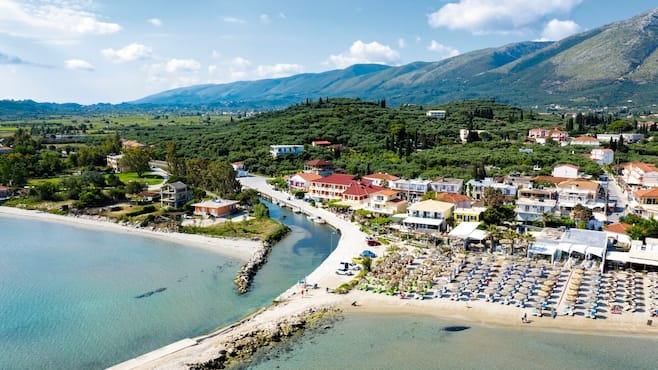 ALYKES
Alykes is one of the main tourist towns in western Zakynthos, providing a relaxed yet well-catered-for base that's popular with families. The stunning Alykes Beach stretches for several kilometres and is renowned for water sports such as jet skis, banana boats and paragliding. In the town,restaurants serve traditional Greek fare but there's no shortage of international options with Chinese, Mexican and even British food on offer.
The Alykes bar scene revolves around modest bars with affordable cocktails and imported draught beers.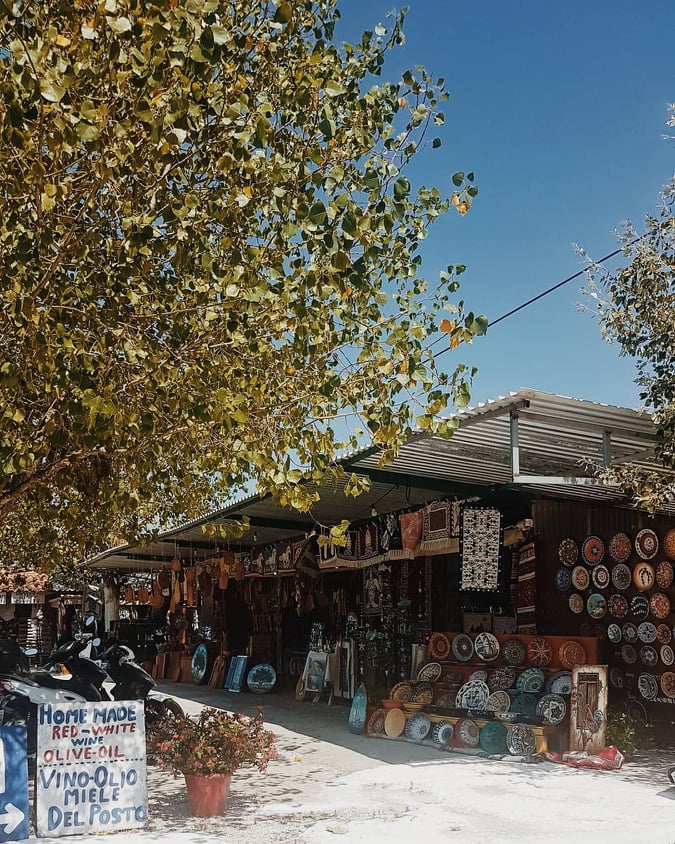 VOLIMES
Volimes is 31.5 km north west of Zakynthos Town and is a collective name for three villages called Kato Volimes, Ano Volimes and Messo Volimes. The names correspond to their geographical position – Ano means upper, Kato down and Messo middle. The local handiwork produced here is well known throughout Greece. Lace, embroidery, carpets and ceramics are still handmade using traditional methods, as are wine, honey, and cheese.
A historic mountain settlement, Volimes is a great place to visit for those wanting to get closer to the traditional rural way of life on the island. The sight of multicoloured houses against craggy limestone cliffs is characteristic of Volimes, which is surrounded by pine forests, olive groves and vineyards.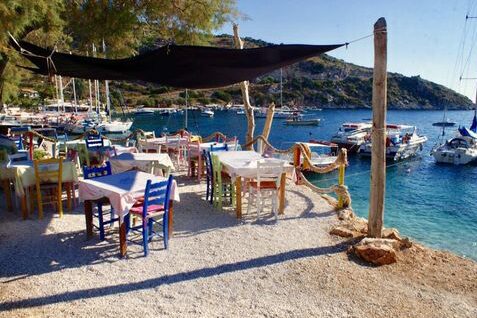 AGIOS NIKOLAOS
Agios Nikolaos is a tiny port tucked away in what might just be the most picturesque corner of Zakynthos. A visit to Agios Nikolaos should centre around the beautiful beach of the same name, a sheltered curving cove of pebbles lapped by transparent waters.
Ideal as a jumping-off point for excursions to Navagio 'Shipwreck' Beach and the Blue Caves, Agios Nikolaos boasts some stunning luxury hotels and wonderful waterfront taverns.
LIMNI KERI / KERI 
Keri is 17 km south west of Zakynthos Town and is actually two villages; a small village with a hill top location nestled amongst verdant scenery and another known as Keri Lake where there is a small port and a beautiful beach.
Limni Keri (Keri Lake) offers a tranquil slice of Zakynthos that's as close to the island's original way of life as it's possible to get. The main draw is undoubtedly the gorgeous Limni Keri Beach, an arcing pebble bay blessed with shallow turquoise waters and backed by lush green pines.
Nearby Marathonissi Island is just a short boat ride away from Limni Keri and offers deserted beaches along with enchanting caves and turtle-spotting in crystalline waters.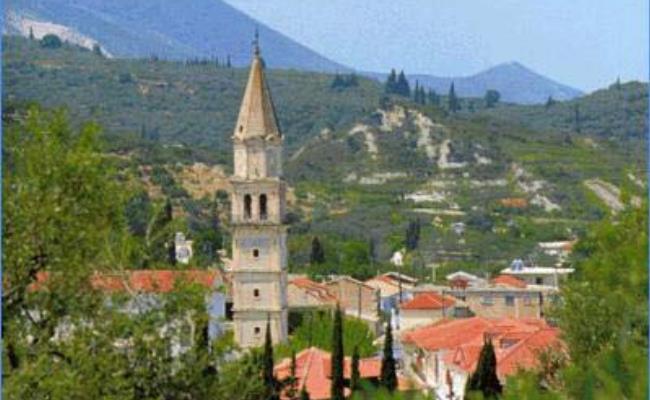 MAHERADO
Maherado is 7.5 km south west of Zakynthos Town and is is the second largest village of the island. The village is famous for the pretty Church of Agia Mavra, which dates from the 14th Century and is one of the oldest Churches on Zakynthos.
Celebrations in honor of Agia Mavra usually take place the first weekend of July, when the whole town gets together to dance in traditional customs and eat delicious barbequed food.
MARIES
Maries is 31 km west of Zakynthos Town and is a picturesque village with nice view to the Ionian Sea. Maries is totally untouched by tourism and visitors can get a view of rural life on Zakynthos. It is named after two Mary's, Mary of Magdalene and Mary of Klopas. According to tradition their ship dropped anchor at Porto Vromi and Mary Magdalene came ashore to spread Christ's gospel.
The footprint can still be seen imprinted on the rock of the shore.
AGIOS LEON
Agios Leon is 24 km west from Zakynthos Town and is a small traditional village on the western side of the island. It is named after a Bishop of Catania in Sicily, who when canonized became Saint Leon, and a church was built in his honor in the village in the 14th Century.
Another unique chapel is to be found in the village as its bell tower is housed in a windmill.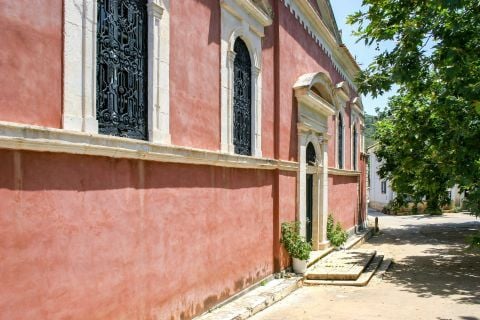 EXO CHORA
Exo Chora is 35 km from Zakynthos Town and is a small, mountainous village with traditional architecture preserving a sense of history as it has some of the oldest houses on the island. This because it is one of the few villages to escape destruction from the devastating earthquake of 1953.
The village is charming, the pace of life is slow and it is a great location to relax and soak up the Greek culture and customs.
KAMBI
Kambi is 30 km north west of Zakynthos Town and is a lovely small village built on the slopes of a green hill, and is renowned for its beautiful sunsets. It is surrounded by olive groves, fields and vineyards. It overlooks the beautiful bay of Schiza.
Many trips are available to enjoy traditional Greek nights, delicious Greek food and the local Zakynthian dances performed by professionals wearing traditional costumes and of course the chance to join in the dancing and to enjoy the sunset.
KATASTARI
Katastari is 17 km north west of Zakynthos Town and is a traditional village surrounded by olive groves and vineyards with views to the amazing gulf of Alykes.
It is the largest village on the island and the most populated, although retaining its traditional character. The popular resort of Alykes is almost a part of this expanded village and is 2km from the centre of Katastari.
TRAGAKI
Tragaki is 11 km north west of Zakynthos Town and is a picturesque mountainous village which lies in a green valley. The village offers an enchanting landscape covered with olive groves and vineyards with spectacular views across the Ionian Sea.
Many beautiful beaches are located withinin close distance to the village.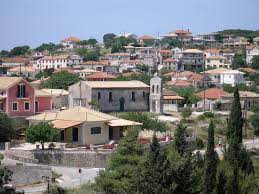 KILIOMENOS
Kiliomenos is 16km km south west of Zakynthos Town is a rural mountain village, sometimes known as Agios Nikolaos after a beautiful old church of the same name located here. Some houses in the village date from the 16th Century after managing to survive the strong 1953 earthquake.
The church of Agios Nikolaos has a separate bell tower dating from 1893 with fine detailed stone carvings. Kiliomeno is renowned on the island for its stone architecture and many of the houses here have been built in the traditional Zakynthian way, using local stone from nearby quarries.The surrounding region is rich in vegetation, making it an ideal spot for walking.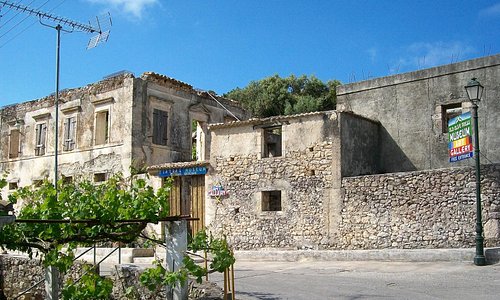 AGALAS
Agalas is 22 km south west of Zakynthos Town and a small traditional mountain village on the west coast of Zante. It is famous for the Damianou Cave – which is unusual as it has two entrances. The area surrounding the village is rich with pine forests, where in the winter a rare and delicious type of mushroom grows. The village has a quaint church with a pretty bell tower and next to the church is an art gallery and museum. There are wonderful views over the west coast from this village and it is a great place to watch the sunset. This is a starting point for many brilliant walks, such as the walk to the Cave of Damianos.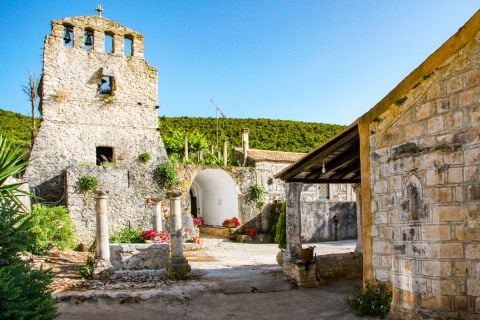 ANAFONITRIA
Anafonitria is 23 km north west of Zakynthos Town and is a small village on the north western side of Zante, just above the Shipwreck Bay. It gets its name from the 14th Century Monastery situated here – the oldest monastery on Zante.
The patron Saint of the island, St Dionysios, took refuge and spent the last few years of his life in this monastery. Combining visiting the monastery and overlooking the Shipwreck makes for a very enjoyable day out.
GYRI
Gyri is 20 km north west of Zakynthos Town and is the highest village on the island at 550 m above sea level and offers spectacular views. It is one of the oldest villages on the island having been established in the 15th century. The surrounding region offers stunning mountain scenery, rich with wildlife and tranquility – the only sounds being the sweet melody of birdsong. Near Gyri are the unexplored Hagioti and Black Caves.
A tranquil village, it is the ideal place to visit, feel at one with nature and escape crowds and the stresseds of modern life.