The Zakynthian calendar is chock-full of festivals, and locals are always up for a celebration. Over the centuries, the island gave birth to many traditions and festivities unique to Zakynthos, most of which are connected to religious worship and are called Panayiria. 
The Carnival held before Easter is a major festivity and is well celebrated in true Zakynthian style throughout the island.
Whenever you holiday in Zakynthos, be assured that there are countless celebrations, which welcome visitors, throughout the year, serving local wines, great food and with much song and dance.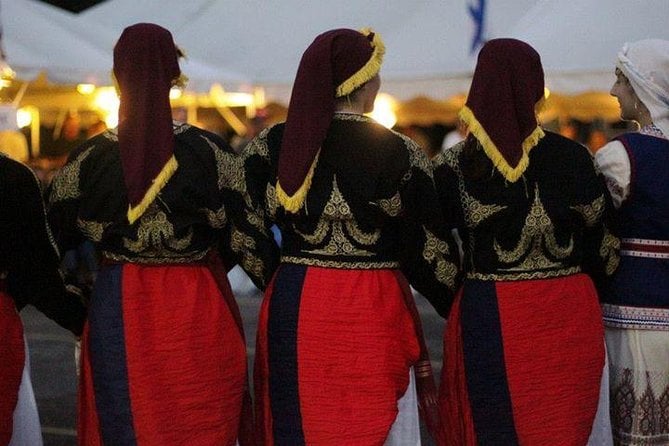 Panygyria (Saint Days)
The most notable religious celebrations include the Epiphany, Easter, which is the biggest festival of the year and considered to be the most important, the Assumption of the Mother of God, and Christmas.
Other Panygyria or religious festivals include:
May 3rd -Santa Mavra in the village of Maherado.
17th July – Agia Marina at the village of Agia Marina
22nd July – Maria Magdelena at Maries Village
24th July – Monastery of Agios Ionnis above Katastari
July 26th – Agia Paraskevi in the villages of Agios Leon and Volimes.
06th August – Church of Sotiras at Pantokratoras
August 15th – The Monastery of Panagia Anafonitria.
August 24th and December 17th
08th September – Monastery of Spiliotissa in Orthonies.
St. Dionysios
St. Dionysios is the Patron Saint of Zakynthos Island, having been born on the island in 1547. There are several churches named after him, including the large church at the edge of the harbour of Zakynthos Town.
Twice a year, the capital of Zakynthos Island becomes the location of solemn processions dedicated to him. The first towards the end of August (23rd- 26th), where islanders celebrate the return of his relics to Zakynthos, and the second between the 16th to 18th December, the name day of St. Dionysios.
Thousands of Christians make a pilgrimage to the holy places in order to honour and celebrate their saint.
Zante Carnival
Carnival is a magnificent, colourful and festive two week celebration that takes place right before the Lent fast, seven weeks before Greek Orthodox Easter. It is reminiscent of the Venice carnival but includes particular Zakynthian traditions.
A traditional town crier proclaims the program of the Carnival, and there is a procession through the streets where islanders dress as characters from Commedia dell'arte, Dialogues and a Venetian Wedding. There are many contests throughout the period including trivia, cycling competitions and theatrical performances.
The celebration ends with a satirical performance – the Funeral of the Mask. It is a fantastic opportunity to participate in an ancient celebration.
Clean Monday (Kathara Deftera) signals the end of Carnival and families celebrate with picnics and kite flying as they usher in the Lent fast.